Glass Pool Fencing
If you want to transform your pool setting, the addition of a glass pool fence will provide a stunning and modern touch while also complying with WA pool safety standards. We specialise in frameless glass pool fencing, the ultimate option when it comes to glass pool fences.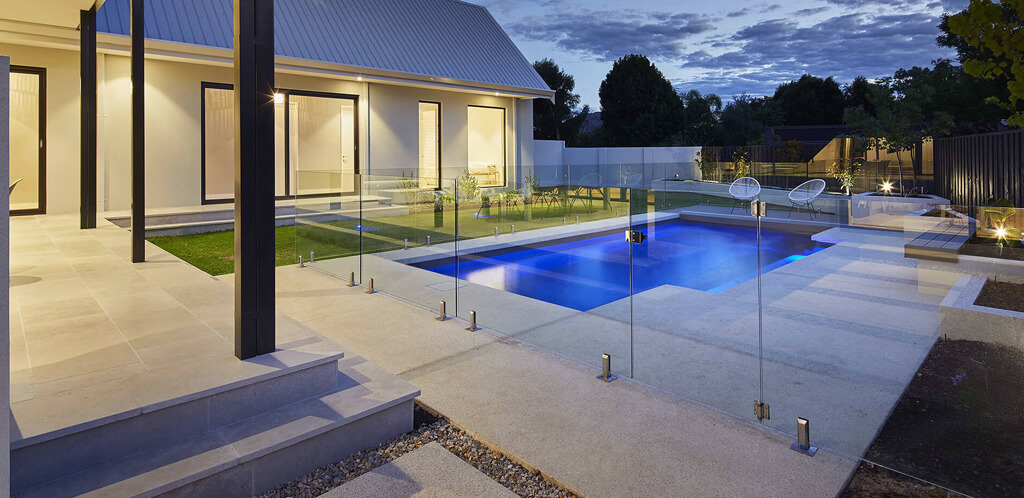 Why Glass Over Other Pool Fencing?
Many Perth residents opt for glass pool fencing because of its aesthetics. A glass pool fence immediately enhances your pool setting and gives the impression of a bigger space. But they also meet all safety regulations, so you can have safety without sacrificing looks. 
Glass pool fencing is a very safe option since they are less of a climbing hazard compared to aluminium bar fencing. Since the fencing is clear, you can also keep an eye on your young ones playing in the pool. 
Why Choose Us to Install your Glass Pool Fence?
We Put Safety First. 
Safety is always our number one priority when we install glass pool fencing. We take a lot of care to ensure your fence is fitted correctly and meets all Western Australian Pool Safety Regulations.
We Aren't the Cheapest.
It's a great idea to get multiple quotes before choosing a company to install your glass pool fence, especially if you are on a limited budget.
We openly admit we may not be the cheapest, but there is a good reason for it. We've attended many repair jobs to fix the work done by other pool fencing companies. These installations and the materials used are often subpar and don't meet safety regulations. 
We value quality over price, which means we use higher quality materials and employ only the most experienced fence installers. So while you might spend slightly more on our service, you will have confidence knowing that things are being done right the first time and your family's safety is our main priority.
We Can Work With Any Layout.
We offer glass pool fence installation on most surfaces and layouts. If you have a unique layout and you aren't sure how a glass fence could work within that space, we can provide honest advice and give you some options. 
Regardless of your layout, we will always ensure that safety is at the forefront of any designs we recommend.
We Are Proactive.
In some cases, preliminary tasks are required before we can install the fencing. We will always strive to call ahead of the installation date to arrange times that we can get these tasks done. Then when it comes to installing your Perth glass pool fencing, everything is ready to go and the process will be seamless and efficient.
We Are Detail Oriented.
The difference between a good job and an amazing glass fencing installation is in the details. We make sure we do things right the first time and always provide outstanding workmanship. This means involving you in the process and keeping you informed every step of the way. 
At Diamond Glass Pool Fencing, we offer a free measure and quote. We will come to you, measure your area and provide you with a no-obligation quote. 
Please ask us any questions you have, and we will always strive to provide the best possible advice.
Frequently Asked Questions
Our glass pool fencing is made from toughened 12mm thick safety glass. The glass fool fence gate is made from 10mm thick glass.
Will the Glass Crack or Shatter?
No – the glass is hardened to prevent cracks or shattering.
What Surfaces Can Glass Pool Fencing Be Installed On?
We can install glass pool fencing on a variety of surfaces including limestone, concrete, pavers, tiles and timber Decking.
How Is the Fence Secured to the Ground?
We use high-quality stainless steel spigots. Drilling is required to insert the spigots, and a quick-drying high strength grout is applied to keep them in place. The glass fence panels are then fitted into the spigots.
How Much Maintenance Does a Glass Pool Fence Require?
Glass pool fencing is low maintenance. You will occasionally need to clean the glass and spigots with the correct products to keep it looking great. We provide an affordable glass pool fence maintenance service or if you'd like to maintain it yourself, we can provide recommendations on cleaning products and how to use them.