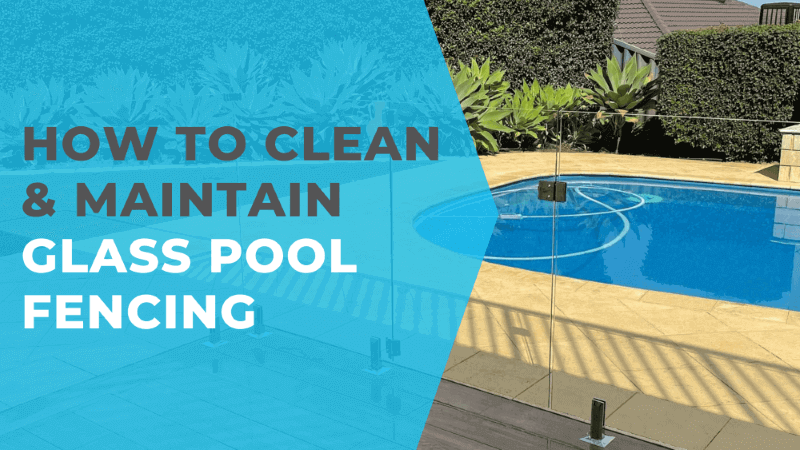 At Diamond Glass Pool Fencing, we specialise in glass pool fencing because they are easy to clean and enhance the look of your pool area.
However, like all glass surfaces the cleaner it is the more aesthetically pleasing it will be.
Dirt build-up, water splashes and handprints on glass pool fencing are unavoidable. Luckily, it is very easy to clean and maintain. 
So how do you keep your glass pool fence clean and clear? We've put together a step by step guide on how to clean your glass pool fence with extra tips on how to save time and money. 
How to Clean Glass Pool Fence:
Glass pool fences are easy enough to keep clean without spending too much money and time. Follow our easy step by step guide below for the best results. After years in the industry, we guarantee this is the perfect method!
What You Will Need
Squeegee or microfibre cloth 

Garden hose 

Bucket filled with warm water 

Mop head or sponge

Detergent (Any store-bought dish detergent is fine)
Steps:
Wet down glass panels to move grime/dust with a hose before cleaning (do on both sides) 

Mix warm water and a small amount of dish detergent 

Use clean & debris-free mop or sponge over panels and spigots 

Use a small cloth/sponge to clean spigots

Use a hose to rinse off the detergent 

For a perfect finish use a glass squeegee or a microfibre cloth to go over the glass on both sides (Not required if you have Enduroshield applied)

Use a microfibre cloth to wipe the edges of the panels and polish the spigots & hardware (Not required if you have Enduroshield applied).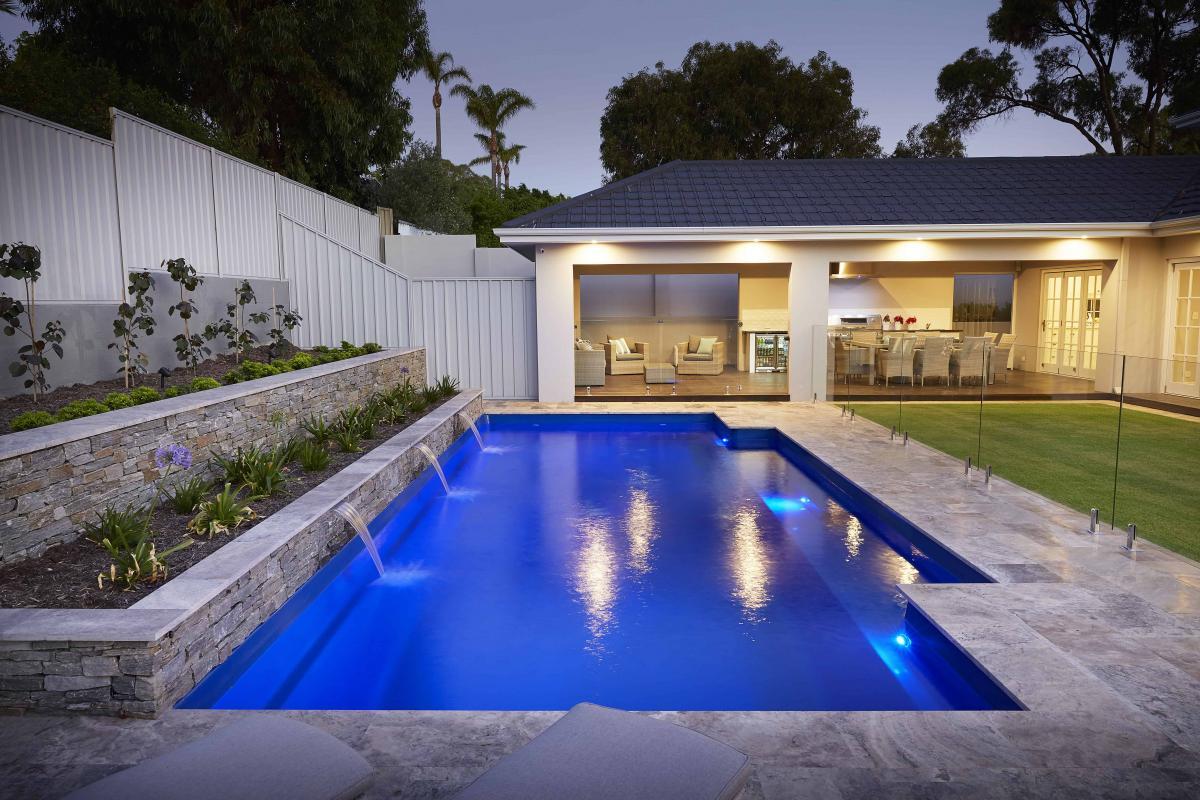 I've Tried The Above But I Can Still See Marks 
If you've put off cleaning your fence for an extended period (i.e longer than 3 months), you are likely to find the above steps will not remove some stubborn marks. 
The chemicals and minerals in pool water can build up on your glass pool fence, especially if you have a saltwater pool. To remove stubborn stains like this, you will need more than a sponge. We recommend using a spray bottle of 50% white vinegar and 50% water and some scrunched up newspaper.
Don't use anything more abrasive than newspaper as this could scratch your glass panels. Never use anything like a scourer.
Glass Pool Fencing Cleaning & Maintenance Hacks 
Hose off Between Uses 
Get in the habit of quickly hosing off your fence after each time in the pool. This will dissolve any salts and minerals splashed onto the panels and make your next scheduled clean a whole lot easier. 
No Glass Cleaning Chemicals Required 
We do not recommend using glass cleaning products. Despite many products being marketed to clean glass fencing, we have found that they often leave residue on the glass and damage your glass coating if it's been applied. Ignore these products – you don't need them.
Opt for Frameless Glass Pool Fencing
While pricier than semi-frameless glass pool fencing, frameless glass pool fencing requires less cleaning. This is because there is less hardware to keep clean.
Clean Bird Or Animal Droppings ASAP
Spot clean any bird or animal droppings as they will erode your glass and hardware. 
Apply A Protective Glass Coating 
The ultimate hack to keeping your glass pool fence clean is to apply a glass protective coating. We recommend Enduroshield, a nanotechnology glass coating that makes a permanent bond to the glass. This product protects your glass over the long term and dramatically reduces the likelihood of the glass being permanently damaged or discoloured from the corrosion and staining, caused by chemicals and minerals left behind by water.
It also heavily reduces cleaning time, as the water repels, so you won't have to use a dry cloth or squeegee to remove watermarks, you can just let your fence air-dry.
We give all our clients the option to have Enduroshield applied to their glass pool fencing. One application lasts up to 3 years and can be applied to new and existing glass fence panels.
Cleaning & Protecting Your Spigots
Contaminants like chlorine can cause stainless steel products to appear 'tea stained', discoloured and even to corrode.
To protect your spigots we recommend applying AUTOSOL Stainless Steel Care Products. Made in Germany, these are premium quality products providing superior steel cleaning ability and protection. 
Regular Maintenance is Key
During the summer, you will likely need to clean your pool fencing more often. Your cleaning schedule will also be more regular if you live near the coast or in windy places. 
Regular cleaning and maintenance will help to ensure your glass pool fence remains safe and brand new looking. 
Applying our guide on how to clean your glass pool fence will help you keep your pool fence in the best condition and save you costly replacements down the line. At Diamond Glass Pool Fencing, we offer glass pool fencing maintenance. If you don't have the time to clean and maintain your glass pool fence, we can do it for you. Get in touch with our friendly team for a quote on regular maintenance.
Frequently Asked Questions
How Often Should I Clean My Glass Pool Fence?
We recommend cleaning your glass pool fence every 2 – 3 months.
What Products Shouldn't I Use on My Glass Pool Fence?
We don't recommend any glass cleaning products as these cause residue build-up and are an additional cost you don't need to pay for. All you need is detergent and water.
If I Live Near The Coast Do I Need To Clean My Glass Pool Fence More Often?
Yes – If you live near the coast you will have more build-up of salt on your fencing. It is especially important to keep your stainless steel spigots and hardware clean to avoid corrosion.
What if I Don't Opt For Enduroshield?
Not having a glass coating will require more steps in the cleaning process and will mean your glass isn't protected from damage and discolouration.