Glass Pool Fence Installation
At Diamond Glass Pool Fencing, we install high-quality glass pool fencing across Perth. Whether you have an established pool area and want to replace your fence with frameless glass pool fencing or have a new pool installed, we can help.
We start the process by offering a free onsite measure and quote, where we capture specific measurements, show you examples of the hardware you can choose, and discuss ideas for possible designs. If you choose to move forward with the proposed plans and quote, we will book a time for the installation.
Highly Experienced and Respectable Installers 
We offer superior workmanship to other Perth pool fencing companies. We are often called to come to fix unsafe and unacceptable glass pool fence installations completed by other companies. 
We have worked hard to build a solid reputation as Perth's leading glass pool fence installation company. To ensure our high standards are consistent, our installation team undertakes extensive training.
Following an installation, we will always leave your property tidy and ensure your outdoor pool area is sparkling clean to the best of our ability on the day of installation.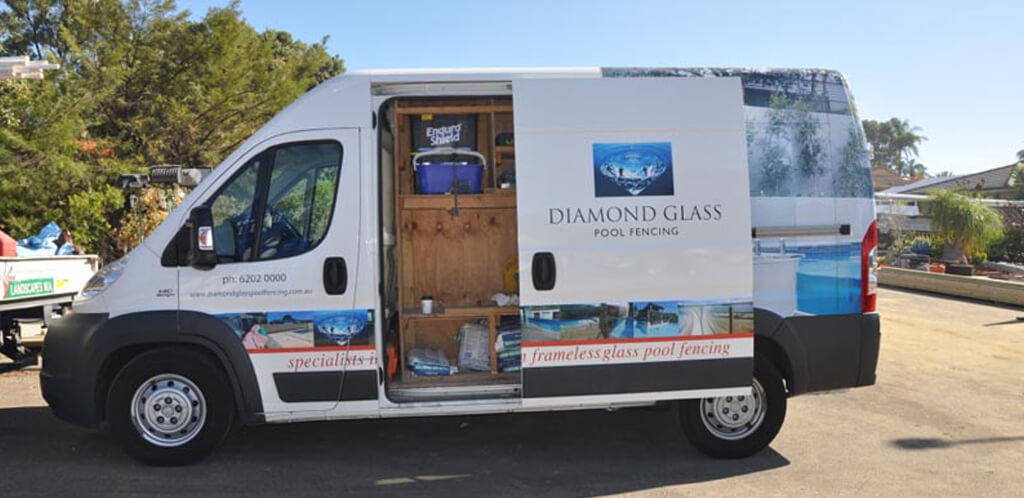 Preferred Pool Fencing Installers for Award-Winning Pool Companies 
We are proud to be the preferred glass pool fence installers for Perth's best pool companies. We work closely with Barrier Reef Pools in Joondalup and Barrier Reef Pools in O'Connor and for your convenience, you will find our office at these mentioned Display Centres.
Factory Direct Pools, also consider us as one of their preferred glass pool fencing installers. It's a privilege to work with such esteemed pool suppliers to create a stylish and safe outdoor pool area, using the highest quality products.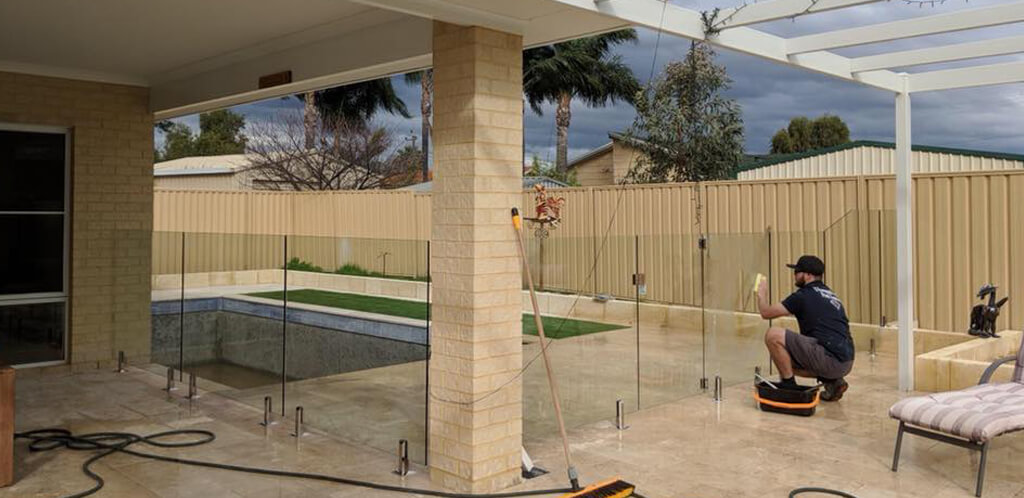 What to Expect On Installation Day
Step 1) We will arrive with all the materials we require to complete the glass pool fence installation. Your installer will first mark out the position of the spigots in line with our pre-approved design. 
Step 2) Next we will drill the holes for the spigots to be placed into. Once the spigots are in place, we apply a quick-drying grout to fix them in place.
Step 3) Lastly, the frameless glass panels will be fitted precisely into the spigots and the pool fence will start to take shape. We guarantee a perfect fit for your glass pool fence and gates.
Installing a Timber Deck Around Your Pool?
If you're planning on installing new timber decking around your pool we may need to do some preliminary tasks, or on-site pre-preparation before the decking is installed. Please let us know if you are planning on installing decking when contacting us. 
If you already have a deck around your pool and want your glass pool fencing installed on top of it, we will need to come out and check if it's feasible. In some scenarios, it's not possible to install the fence directly onto the decking, so we would use stainless hardware to tie the fence into the house or any solid structure.
Get a Free Measure & Quote
We provide a no-obligation free measure and quote for those in the Perth metro.
Before we come to measure the area, it's important that all finished floor levels have been achieved. This applies to new builds that are installing a pool and fencing. 
Frequently Asked Questions
What if I have an Existing Pool Fence?
We offer a FREE removal and disposal of your old pool fence. Temporary fencing can be supplied at no additional cost (subject to availability). However, if we have supplied the complimentary temporary fence and you decide to cancel, then we may charge a fee of $1100 + GST to cover our costs.
Do I Need to Do Anything to Prepare the Area for the Installation?
If you are adding a pool, your pool fence installation will happen after your tiling or other flooring materials have been finished.
Please raise any installation issues within us before the day of installation. This can be any changes to the design, i.e location of lights, skimmer boxes etc.
If you are adding decking around your pool, we will need to do some preliminary work before it's installed.
How Long Does the Installation Take?
We can answer this at the time of your free measure and quote based on your specific needs. But generally and in most cases, an install is completed in one day.
Can a Glass Pool Fence Be Installed Directly On Grass?
We don't recommend installing a glass pool fence on real grass as it has to have a footing and cutting grass right up to it would be difficult without damaging the fence. And if you are having grass laid after the pool fence, we recommend you cover the glass pool fence with plastic or a tarp to avoid water splashing on the glass as you retic a lot with the getting the grass to take hold and grow. We also recommend you water early in the mornings to ensure water is not hitting the glass in the extreme heat of the day to avoid water stains.