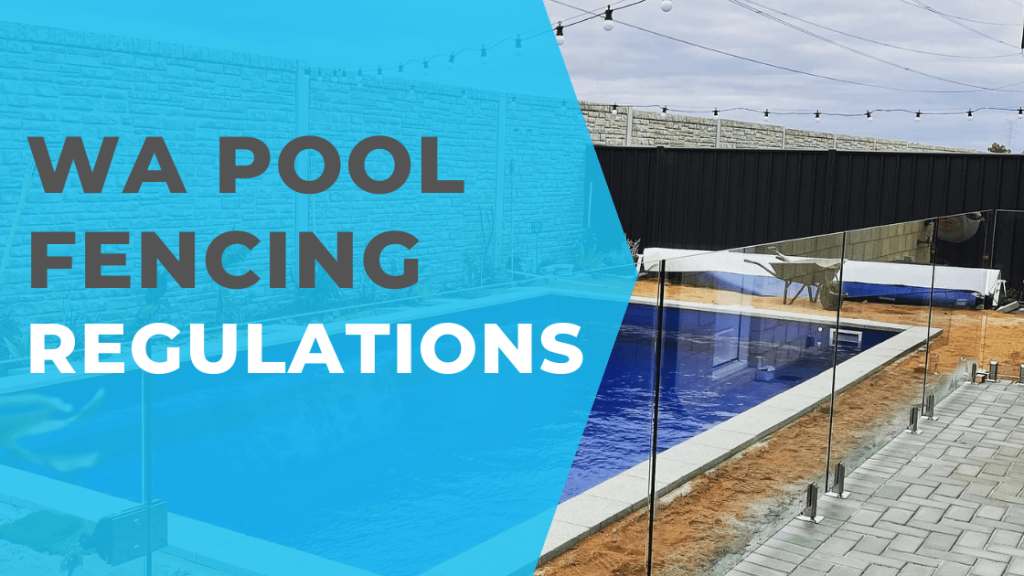 WA Pool Fencing Regulations
With the arrival of summer and people spending more time in their swimming and spa pools, we want to remind everyone about WA pool fencing regulations and their importance in keeping you and your family safe.
Not having your pool area meet Australian standards can put your family's safety at risk as well as result in fines from your local council.
The age group most at risk of drowning are children ages 0 – 5. Sadly, drowning rates have increased in Western Australia, with 40 per cent of toddler drowning deaths occurring in swimming pools.
To help you understand WA's pool fencing regulations, we've summarised some of the key requirements. This is in no way a comprehensive guide, WA's pool fencing regulations are very detailed and complex. For a definitive guide, refer to the Western Australian Rules for Pools & Spas.
Due to the complexity of these regulations, it's always best to have a pool fencing specialist check your fence and pool area to ensure you meet all safety regulations. 
When Is A Pool Fence Required?
In Western Australia, the legislative framework that governs barrier requirements for private swimming and spa pools comprises: the Building Act 2011 (the Act); and the Building Regulations 2012 (the Regulations).
It is a requirement that all domestic swimming and spa pools (indoor and outdoor pools) that contain more than 300mm of water have a compliant barrier surrounding the swimming pool or spa.
Domestic swimming pools and spa pools can include above ground pools including inflatable and portable pools as well as bathing or wading pools.
Spa pools include both jacuzzis and outdoor hot tubs, however, this doesn't include spa baths that are emptied after each use.
Reasons For Accidental Drownings in Private Swimming Pools
The single most contributing factor to drowning accidents is unsupervised access.
The other major contributing factor to drowning is the absence of an adequate safety barrier. It is a common belief that devices such as retractable ladders or lockable pool covers will provide adequate protection from drowning. These are inadequate safety barriers, a pool fence is required to prevent accidental drownings. 
Other factors that can cause drowning in private swimming pools and spa pools include:
Ineffective or unmaintained pool fences & pool gates 

Incorrect design and placement of the barrier 

Objects floating in the water that a child wants to grab 
Changes to Pool Fence Regulations WA
WA pool fencing regulations have changed over time. There are different regulations for pools built before 1 May 2016, and again for swimming pools and spas installed before 5 November 2001. As a result, your local council will assess your pool barrier compliance differently depending on when your swimming pool was installed or when plans for the installation were submitted to the permit authority for approval.
There will also be slight differences depending on the type of pool fence you have. For example, a frameless glass pool fence will have the latch mechanism in a different place to an aluminium fence.
Regardless of the date, many of the same safety features apply. Follow our easy checklist to ensure your swimming and spa pool barrier is safe and compliant. 
WA Pool Fencing Regulation Checklist
These swimming and spa pool fencing regulations are in place for one reason – to save young children.
This list shouldn't be seen as boxes to tick for compliance, but instead as prevention methods that will help to restrict access by young children.
Many of these are easy to measure and check yourself. Something simple like a pot plant being moved close to the safety barrier can pose a climbing risk, so we recommend doing regular checks.
Is the fence permanent (can't be removed without tools)?

Is your fence secure and stable?

Is your fence a minimum of 1.2m high from the ground to the top of the fence? (on the outside of the barrier)

Are the gaps between panels (glass) or bars (aluminium) spaced less than 10cm apart?

Is there at least 90cm between footholds & handholds? 

Is the gap between the fence and the finished ground no more than 10cm?

Is the ground the barrier is placed on stable & not eroded?

Is the barrier vertical? If not possible, the barrier must not lean more than 15 degrees.

Can the gate swing freely?

Does the gate self latch from any position without force, including resting on the latch?

Does the gate close without bouncing back open?

Does the gate open away from the pool?

Are climbable objects (trees, pot plants, BBQs, furniture, toys etc)

outside of the pool area

at least 90cm away from the barrier? 

Are climbable objects (trees, pot plants, BBQs, furniture, toys etc)

inside of the pool area

at least 30cm away from the barrier?
When Will My Pool Barrier Be Inspected?
Local councils are responsible for building approval and monitoring compliance.
To build a pool a permit is required from your local council and your pool will be registered upon completion. From then on you will receive periodic inspections to ensure your barrier meets pool safety regulations WA. Most councils will carry out an inspection every four years, but this can vary depending on the local council.
Maintaining Your Pool Barrier 
It's essential to keep your swimming or spa pool fence well maintained. If you have a glass pool fence, do regular checks of your glass panels to ensure there are no chips or cracks. Walk around the perimeter and ensure all panels are fixed and stable. Check your gate is self-closing and self-latching. 
Hardware such as spigots and latches will experience wear and tear over time. If your hardware is in poor condition, this can become a safety issue and replacements will be required. Regularly cleaning your glass pool fence will help to make them last longer.
Keeping your glass clean and maintained will also allow you to have better visibility into the pool area so you can effectively supervise.
If you don't maintain your glass pool fence, you're putting young children's lives at risk and you could face substantial fines from your local government.
Get Expert Help 
If you're planning on getting a swimming pool installed, it's essential you have a compliant barrier installed by an experienced pool fencing specialist.
With 30+ years of experience and the best quality materials, we always deliver pool fences that are compliant with Australian building code standards.
Our unmatched experience means we know all the WA regulations like the back of our hand. It also means we know things like the best position of the gate within the barrier so that wind or ground surface does not reduce the effectiveness of the gate operation and self-closing device.
It's attention to detail like this that makes our pool fencing 100% compliant and made to stay that way over the years.
For those with fencing already installed, we offer a convenient and affordable glass pool fencing repair service, where we check everything is operating effectively and fix and replace any worn or damaged parts.
Supervision is Key To Avoid Tragic Accidents
Please remember pool safety barriers are only effective in restricting access to young children. The most effective prevention against drowning accidents in your private swimming pool or spa pool is supervision by an adult at all times.
Frequently Asked Questions
My Pool Was Built Before 1 May 2016, What Exceptions Apply to Me?
Barriers to pre-May 2016 pools must comply with the relevant requirements of Australian Standard AS 1926.1-1993.
Pools installed from 1 May 2016, are required to comply with the Building Code of Australia (BCA). The BCA adopts Australian Standard AS 1926.1-2012.
My Pool Was Built Before 5 November 2001, What Exceptions Apply to Me?
A concession exists for pre-November pools that allow for a door to form part of a pool barrier. This door must be child-resistant complying with AS 1926.1-1993.
I Have an Above Ground Pool, Do I Need a Compliant Safety Barrier?
Yes, any above ground pool will need a compliant barrier to restrict access by young children. The same barrier regulations apply to in-ground and above ground pools.
Can a Boundary Fence Be Used as a Protective Barrier?
Yes, in some cases a boundary or dividing fence may be used to form part of the protective barrier. Property owners should note that post-may 2016 pools must have a boundary that is at least 1.8m high on the inside part of the fence used as the barrier.
Pre-May 2016 pools must have a boundary that is at least 1.2m high.
My Pool Barrier Was Installed Pre-May 2016, Do I Need to Upgrade?
Pool barriers installed before May 2016 are not required to upgrade to the post-May 2016 barrier requirements. This is only the case if your current barrier meets pre-May 2016 requirements.
Can the Barrier Be Made Of Any Material?
The barrier must be permanent and made from durable materials that meet BCA standards. Pool fences must not be able to be removed without the use of tools.
Some options for pool fence materials include:
Glass

Aluminium

Cement

Timber

Brick

Limestone
At Diamond Glass Pool Fencing, we prefer to use glass as it is highly durable and allows for uninterrupted views of your swimming pool or spa area.