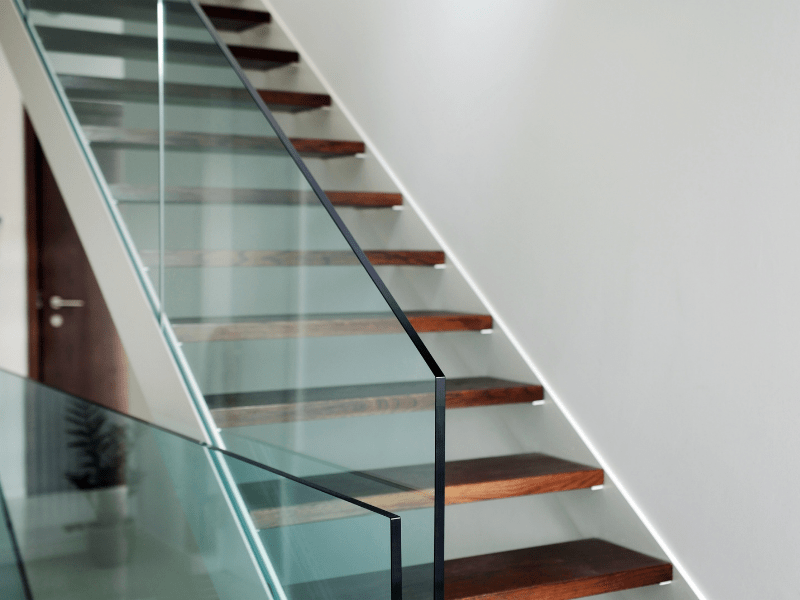 Types of Balustrades – Which Is Best For Your Home?
The main function of a balustrade is to be a safety barrier.
The type of balustrades you use for your staircase or balcony comes down to personal preferences, location, style and budget. It's possible to choose a balustrade that is functional while still complementing the overall aesthetic of your home.
In Australia, there are strict regulations for installing balustrades so that they meet safety requirements. Always contact a professional certified balustrade company to install your balustrades.
When it comes to balcony balustrades the location of the house becomes more important as some balustrade materials function better in different environments.
To help you make the right decision, we've done the homework for you. Here's our review on the different types of balustrades.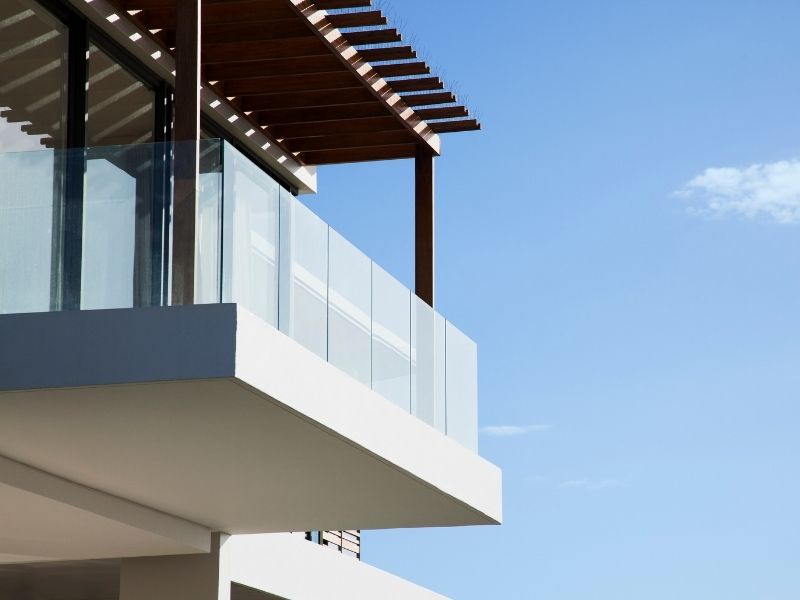 Glass Balustrades 
Our number one pick for balustrades for inside and outside the home is frameless glass balustrades. Why? They look amazing in almost every home, are the safest balustrade type and are extremely durable in most environments. There are of course other types of glass balustrades, like semi-frameless glass balustrades which also look great, but we prefer the uninterrupted views of frameless glass balustrades.
Many people question if glass balustrades are safe as they don't see glass as being as strong as other balustrade materials. However, they are actually the safest balustrade option.
Pros:
Highly durable and strong toughened glass panels (won't shatter if a child or pet runs into it)

Salt resistant 

Very safe – no gaps to squeeze through or bars to climb. Best balustrade material if you've got small children or pets.

Create the illusion of more space and openness

Are less bulky than other balustrade materials 

Blend well with different elements and colour combinations.

Don't take away focus from interior or exterior elements 

Very stylish, providing a sleek and modern aesthetic 

Provides unobstructed views (especially if you opt for frameless)

Lets more light in

Low maintenance needs for glass balustrades

Reduce noise levels as sound waves rebound from glass panels

Impossible to drop objects as there are only tiny gaps (unless thrown over) so good if you have small children.
Cons:
Need to be cleaned regularly to keep a spotless aesthetic 

Glass panels need to be cleaned on both sides, which can be difficult if they're located higher up

Not a great option if your house is prone to collecting a lot of dirt and grime. 

Can cause accidents with birds just like windows do

Not suitable in very windy locations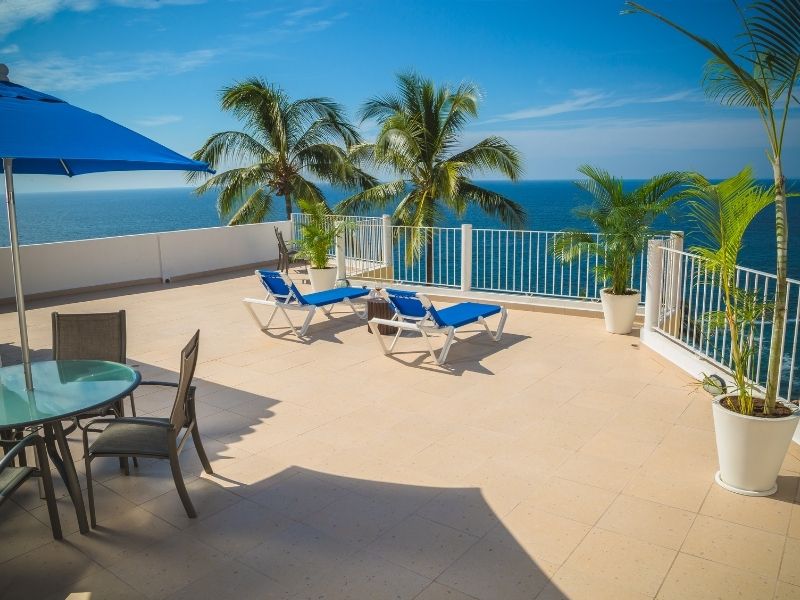 Aluminium Balustrades
Aluminium balustrades are another type of balustrade that can be used outside on the balcony or inside. Aluminium is a reliable and affordable balustrade material and is especially suited for homes near the coast.
Pros:
Rustproof 

Durable 

More affordable as it doesn't have complex manufacturing processes like steel or wrought iron.

Lightweight- many people prefer the feel and look of aluminium

Very low maintenance (might need the occasional clean). After many years, they may need to be powder-coated again.

Can be customised with different colour powder coatings and patterns

Allows the sun to filter through

Fast to install – saves on labour costs

If sustainability is key to your home design, aluminium has a low environmental impact compared to other balustrade materials
Cons:
Can bend and warp (not as strong as stainless steel)

Less visibility than glass or wire balustrades 

Not as stylish as other types of balustrades 

Things can fall through the bars

Pets and kids can get stuck between bars

Allows lots of rain and wind to pass-through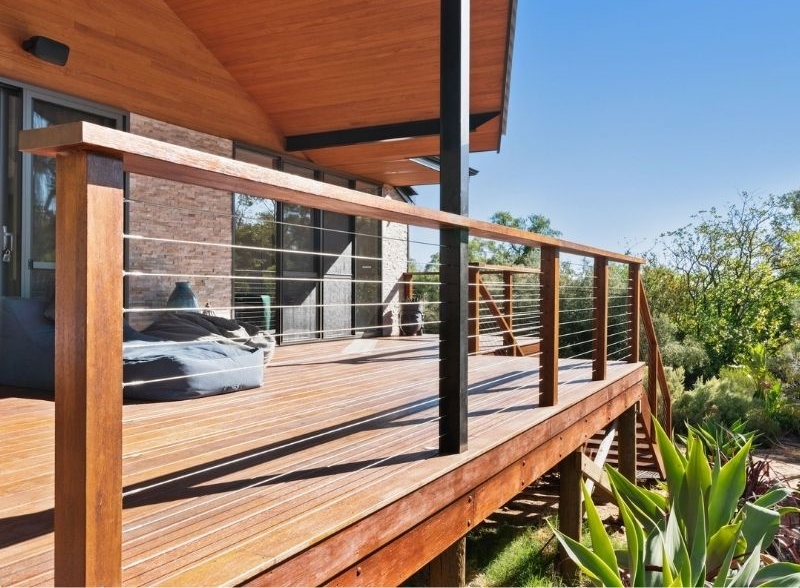 Strand Wire Balustrades
Strand wire balustrades are typically made of stainless steel wires that run through either timber or steel posts. Wire balustrades are functional and easy to install while providing a contemporary finish to your indoor or outdoor setting.
Pros:
Keeps the area cool and allows fresh air to circulate

When wooden posts are used blends well in the environment

Creates an openness 

Good visibility (not as good as glass balustrades)
Cons:
Harder to clean as you will need a brush to get into the dust build-up & salt deposits on the wires

Allows lots of rain and wind to pass-through

Gaps between wires can be a safety hazard especially for children and pets

Wires need to be adjusted and tightened over the years 

If using wooden posts, these will need to be regularly sanded and resealed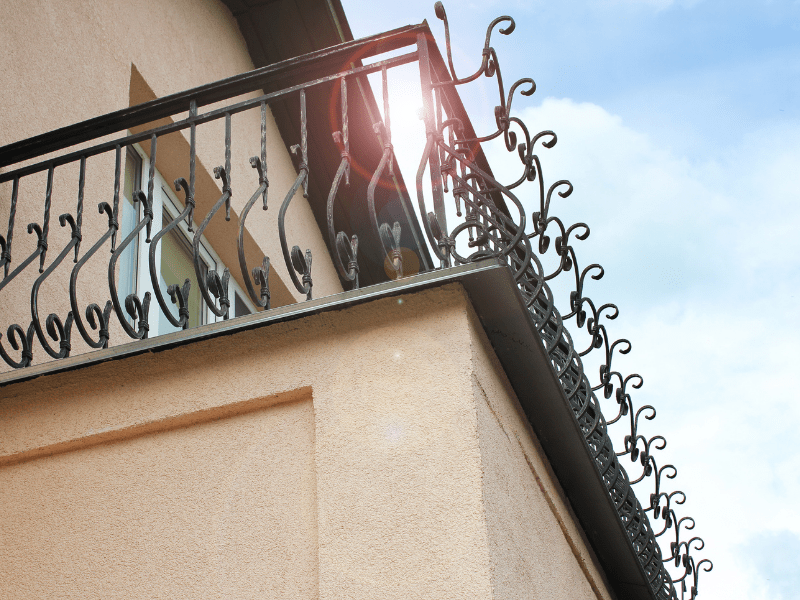 Wrought Iron Balustrades
Wrought iron is a great choice when you're trying to achieve a decorative and lavish aesthetic. They are highly customised to suit your specific taste in interior/exterior decor. Whether you want a classic Parisian balcony or a more artistic design, wrought iron balustrades are highly customisable.
Pros:
Acts as a feature inside or outside your home

Lots of designs to choose from

Robust and durable 
Cons:
Require regular maintenance, including regular

cleaning of balustrades

, sealing and coating to avoid rust.

Expensive 

Depending on the design there are lots of gaps for children to put their limbs through and even for pets to get stuck in.

Allows lots of rain and wind to pass-through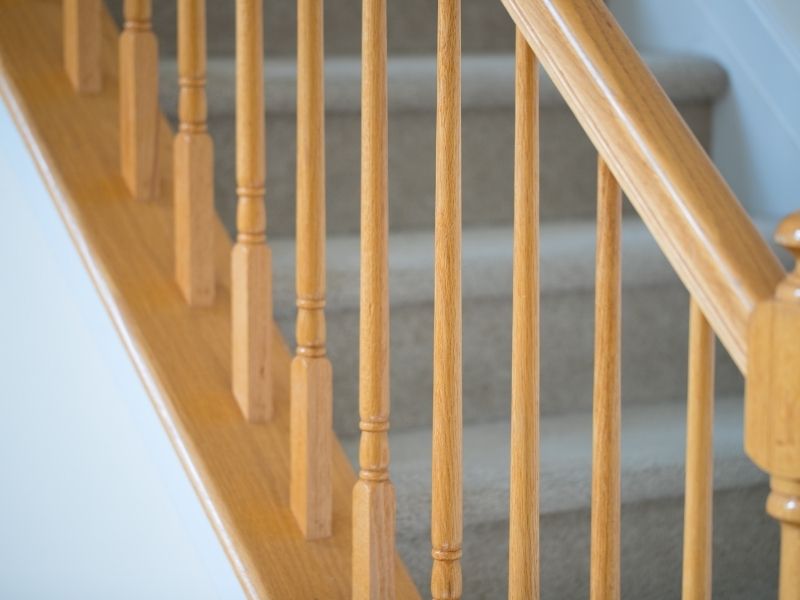 Wood Balustrades
Wood balustrades are used mainly for their visual appeal, however, like any wood products they come with some innate issues. Wood is best suited to more traditional homes and the indoors, or those trying to achieve a more earthy look. Choosing wooden balustrades is something you need to weigh up, as while they look great they require a lot more maintenance than the other types of balustrades.
Pros:
Looks fantastic

Easily customisable (different choices of wood, pole shapes and railing)

Can be treated to resist pests and other contaminants (more expensive)

Can be sealed to last longer before showing wear and tear (more labour so more costly)
Cons:
High maintenance, requires regular sanding & resealing

Even hardwood is susceptible to water damage over time

Prone to warping and cracking 

Prone to termites/white ants

Prone to mould and mildew damage 

Low visibility

Gaps for kids and pets to put limbs through
Frequently Asked Questions
What is the Difference Between Stainless Steel and Aluminum Balustrades?
The main differences are the strength of the metal and the price. Aluminum is very durable but is not as strong as steel. Steel is very strong but very expensive.
Do Balustrades Need A Handrail?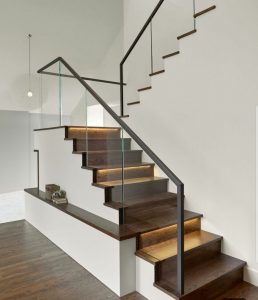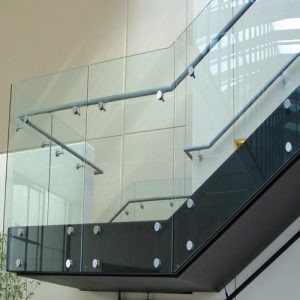 It is an Australian requirement that balustrades that have a drop of over 1 metre must have a handrail. You have different options when it comes to handrails, you can opt for a side mount handrail or a top mount handrail.
Where in My Home Am I Legally Required to Have Balustrading?
According to the Building Code of Australia (BCA), there must be a 'continuous balustrade or other barrier along the side of any roof to which public access is provided, any stairway or ramp, any floor, corridor, hallway, balcony, verandah, mezzanine, access bridge or the like and along the side of any path of access to a building, if­ it is not bounded by a wall; and, any level is more than 1 m above the surface beneath".
These same regulations also apply to pool fences. Read more about WA Pool Fencing Regulations.